WHAT FOOT TYPE ARE YOU?
Debunking Foot Type As A Universal Measure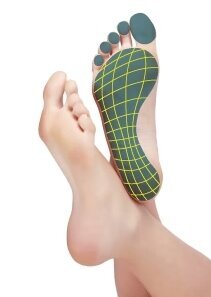 There are more than 14 Billion feet on Earth.
For years now people have been buying shoes based solely on fit and foot type. At Align Orthotics™, we dig a little deeper. Given that the human foot has 1/4 of all the bones in the human body, connected by over 100 muscles, ligaments, and tendons to create 33 separate joints, we think it's crazy to divide all of the feet on earth into 3 categories. But that's precisely what the industry has been doing – until now.
BEYOND THE FOOT TYPE.
There are 3 common foot types: Pes Cavus (high arch), Normal (neutral arch), and Pes Planus (low arch). Understanding the posture of each of these three types of feet and how it changes when it becomes weight-bearing, or transitions from static (sitting/lying down) to dynamic (walking/running/jumping), is an important part of diagnosing common foot ailments and alignment issues.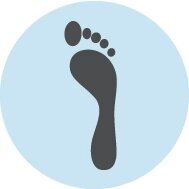 NORMAL ARCH (NEUTRAL ARCH)
An individual with a normal arch typically has a relatively balanced foot; the heel and forefoot make up for approximately 70% of the body's weight distribution, and the last 30% is supported through the arch. Typically the foot is moderately flexible, and when weight is placed upon the foot, flexing of the arch (pronation) is observed. Pronation is a good thing; the feet are designed to pronate in order to absorb impact and store kinetic energy for propulsion.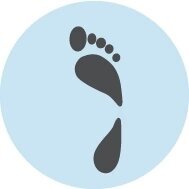 PES CAVUS (HIGH ARCH)
An individual with a high arch typically distributes their body weight along the outside (lateral) border of the foot. There is an uneven distribution of weight between the heel, arch and forefoot, with typically excessive weight distributed on the heels and occasionally on the forefoot. The arch profile is extremely stiff with little to no movement, and pronation is minimal or absent all together.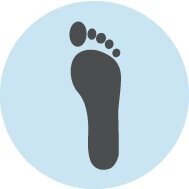 PES PLANUS (LOW ARCH)
An individual with a pes planus foot type is often referred to as "flat footed". This foot type typically has the entire plantar (bottom) aspect of the foot in full contact with the ground: the arch is very low or non-existent. A significant amount of the body's weight is on the inside of the foot, resulting in a very inefficient position for the body to stand and walk in. This is known as over-pronation.


JUST ONE PIECE OF THE PUZZLE
Knowing your foot type is important, but it just scratches the surface of information we should know about your unique feet. The 5-step process we follow in our Body Align Lab gives us the additional knowledge we need in order to properly adjust your feet to improve your comfort, health, and performance.